⠀
Take great intraoral pictures with even lighting and reveal as much detail as possible.  There are many ways to light a patient's oral cavity in macro photography, and a ring flash is one of the most common light sources. The main disadvantage of utilizing a ring flash is that it produces harsh lighting onto the subject.  FlashKap fits around the lens to spread the light out evenly and reduce the harsh effect. 
⠀
Open up a whole new world of dental photography with the most innovative and minimalist ring flash diffuser: FlashKap.
For Canon MR-14EXII:

Canon Macrolite Adapter (not included) + Ring Flash + FlashKap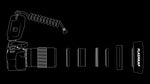 For Non-Canon MR-14EXII:

Ring A + FK adapter +  72mm flash ring (comes with your ring flash system) + Ring B + Ring Flash +  FlashKap

Click here for video: ADAPTER ASSEMBLY

1. Select and screw-on Ring A according to your front lens thread.
(ie. If the front lens thread is 67mm then select Ring A 67mm)
2. Screw-on 72mm Ring
(This ring came with your specific brand of ring flash. Check the original package for this ring)
3. Screw-on Ring B
4. Screw on the completed assembled adapter to the front of your lens.

Flashkap: flash to diffuser distance
Master the art of taking great intra-oral pictures.
⠀
FlashKap features a simple and easy to connect ring flash diffuser for your Canon MR-14EXII. Ideal for implementing high-quality photography into your dental practice with minimal interruption in workflow. For Non-Canon MR-14EXII cameras, use the included adaptor.  
Convenient, Compact Design
This sleek and durable ring flash diffuser mounts on the Canon MR-14EXII lens in one simple step. For Non-Canon MR-14EXII, an adaptor is included.
Secure and Shoot Away
FlashKap produces even and diffused imagery when attached to the ring flash thread or adaptor.

 Minimize Equipment
Minimize setup time with a straightforward minimalist design that seamlessly connects to your camera, becoming one single unit.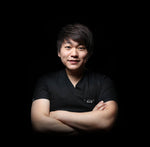 ABOUT Dr. Jess Liu
Dental photography is a major part of every dentist's work. As a tool to showcase your results, document the process, and educate your patients, high-end visuals help you stand out as a doctor who cares. FlashKap came to life as a simple solution to achieve high-quality dental macro photography by softening the ring flash light. 
⠀
Designed by Dr. Jess Liu, this revolutionary minimalistic light modifier provides the flexibility to work with various ring flash systems removing unwanted shadows and capturing a more eye-pleasing image. Clear, diffused images facilitate explaining the course of treatment to patients and reflect trust and professionalism. And now, it's simpler than ever.
⠀
No more heavy and bulky flash equipment; FlashKap gives you the quality results you need to grow your practice, evaluate your technique, and improve your workflow dynamic in one simple step. Master the art of taking great intraoral pictures with simple, lightweight, and easy-to-use equipment that gives you professional results without additional gear.