Designed in USA
Made in Taiwan.
Free USA Shipping
$45 for International Shipping
Patented Design
U.S. Patent No. 11,585,514
Designed in USA

Made in Taiwan.

Free USA Shipping

$45 for International Shipping

Patented Design

U.S. Patent No. 11,585,514
FlashKap - Evolved Ring Flash Diffusion
MUST READ BEFORE ORDERING:

- Free shipping within the USA.
- International orders are subject to a $45 shipping and handling fee. If your country is not listed, please contact us at info@flashkap.com.  
- Customers outside the US WILL BE RESPONSIBLE for any customs duty destination country requires. 
- For any reason, if the shipment is rejected, The customer will be responsible for the customs fee and return shipping fees.
- Please check compatibility before purchase, as ALL SALES ARE FINAL.
- Individual results may vary, and the product's color may vary from the website. 
Patented Design
U.S. Patent No. 11,585,514

Complete Set Includes:
FlashKap Diffuser: Compatible with Canon MR-14EX II without FlashKap adapter 
FlashKap Adapter : Compatible with Metz 15 MS-1, Nissin MF-18, Sigma EM-140 DG, Yongnuo YN-14EX, Yongnuo YN-14EX II, Godox MF-R76, and more)
*Sigma EM-140 DG requires a Sigma 72mm Adapter for EM-140, which is not included.
​"NOT COMPATIBLE WITH CANON MR-14EX, MEIKE MK-14EXT, GODOX ML-150"
If your ring flash model is not listed, please get in touch with us to confirm model compatibility before purchase. 

Lens Adapter Ring A
► 52mm Ring   ► 58mm Ring   ► 62mm Ring   ► 67mm Ring 
*If your front lens filter thread is not included separate purchase is required.
FlashKap Adapter Ring B
Camera, lens, canon macrolite adapter, and flash are not included. 

Canon macrolite adapter is not necessary for Canon EF-S 60mm Macro & Canon EF- 100mm Macro.
REFUND POLICY: NO REFUND WILL BE ISSUED, ALL SALES ARE FINAL. 

SHIPPING POLICY: SHIPMENTS OUTSIDE THE UNITED STATES: Any import duties, taxes, or brokerage fees due at the time of delivery are the sole responsibility of the recipient. 
FlashKap - Microscope Adapter
FlashKap Microscope Adapter - Allow FlashKap adapter and FlashKap ring flash diffuser to be attached to a Zeiss microscope.
Attach the FlashKap microscope adapter to your Zeiss microscope drape adapter with the tension screws included and attach the FlashKap ring flash diffuser setup and shoot away. 
Two versions: 
1. E300 compatible with Zeiss Extaro 300. 
2. OP compatible with Zeiss OPMI pico. 

(NOT A ZEISS ORIGINAL PRODUCT)
FlashKap has no affiliation with Zeiss.

For Canon MR14EX II:  77-67mm step down ring is required to be purchased separately.
*Zeiss drape adapter is not included"

Please note that FlashKap is not responsible or liable for any damages to your microscope. 
RESULT-DRIVEN

Improve communication with your dental laboratory, and showcase your best results with detailed, diffused images that enhance the quality of care for your patients with honest self-assessment.
HIGH-END SIMPLICITY

Portable, lightweight, and easy-to-use equipment that give you professional high-quality diffusion results without additional gear.
COMPATIBILITY

Compatible with Metz Mecablitz 15 MS-1, Nissin MF18, Yongnuo YN-14EX, Yongnuo YN-14EX II and many more.
(not compatible with Canon MR-14EX)

FOR BEST RESULT WE RECOMMEND CANON MR-14-EX II or NISSIN MF-18
"If you're serious about dental photography then Flashkap is a must-have."

Dr. Joseph Morcos, California USA

"Love it! Use it with my Nissin MF-18 ring flash. No more heavy accessories"

Dr. Sean Lee, Boston USA

"The best thing about FlashKap other than the diffusion is the simple setup!

Dr. Kiri Chang, Edmonton Canada

"I was one of the first beta tester for FlashKap. If you are looking for that soft diffuse style then this is the diffuser for you!"

Dr. Mike Park, Edmonton Canada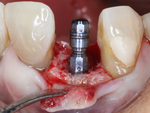 Before
After